A Journey of a Thousand Miles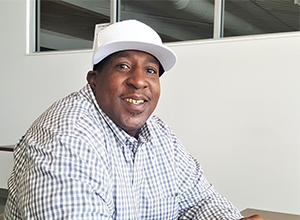 A Journey of a Thousand Miles
Jessie's Story
As a boy, Jessie spent a lot of time in his grandmother's North Carolina kitchen. "I helped her do this and that," he says. "As I grew older I began doing more of it on my own. I liked cooking and being in the kitchen." Fast-forward a few decades and life has taken Jessie from North Carolina and his grandmother's kitchen to the Army Reserves, Milwaukee, and finally St. Paul. Mix in some hard living, prison time, struggles with sobriety, and being homeless, and you'll find a man ready for a new chapter and eager to embark on a new career in the culinary arts. It's a journey of a thousand miles—in more ways than one.
After moving to the Twin Cities, Jessie was staying at Higher Ground, a Catholic Charities shelter, in Minneapolis when he first learned about NorthPoint and the African American Men Project (AAMP). "I was told this was a program that could help me move forward in my life," Jessie says. He was more than ready for a change.
The AAMP helps men overcome barriers in their lives including employment readiness, incarceration, and chemical dependency. Men can receive social support, mentorship, and access to programs and services that best meet their needs. Weston (Wes) Berry-Belton is a counselor with AAMP. "I fell in love with this work because I was once where a lot of these men are. They know they have someone on their side who's been there."
AAMP deals with each individual's challenges and life circumstances. Men have access to one-on-one counseling as well as group sessions. There are currently about 100 men involved with AAMP. "A lot of people aren't ready for change and don't know how to kick it off. We help them get ready to have a transition. They can be with us as long as they feel they need us," Wes says.
Wes has been working with Jessie for about three years. "When I first met Jessie, he was struggling with staying sober and having a positive support system. When he came to me he was in need of housing and work. Jessie has been active in his treatment plan, is involved with his church, and recently graduated from a culinary arts program at Catholic Charities. He has come a long way. We celebrate his sobriety and his ability to stand strong and keep moving forward," Wes says.
"Wes has been there when I need someone. He is like my brother," Jessie says. "He came to my graduation (from the culinary program). I will always want to be in touch with Wes and the program; maybe come back and help someone who's new. I could share my story, give people some help. This program has given me a lot and I want to give back."
With Wes' support, Jessie has set goals for himself including getting a job where he can use his culinary skills, having his own apartment, and having a stable life. "I ain't where I wanna be but I ain't where I used to be," says Jessie with a smile. He adds that he'd like to have a couple of Westons in his life.
Jessie also thinks of his mother. "I want to thank her, she's been there through thick and thin with me even when I was in my mess," he says. "She's praying for me to get it together. I think I've brought joy to her heart with who I am today."