Retired Physician Continues Caring for NorthPoint Friends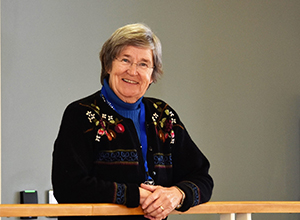 A Retired Physician Continues Caring for NorthPoint Friends
Sharing Grace and a Caring Touch
Although Dr. Martha Anderson is a retired family practice physician, she still has a healing touch that brings comfort to many. Dr. Anderson enjoyed a 33-year career at NorthPoint before retiring a few years ago. Wanting to stay connected, she found a niche as a foot care volunteer at NorthPoint and the Cora McCorvey Health and Wellness Center (formerly Heritage Park) where she provides seniors with foot exams, foot massages, foot care, and referrals to a podiatrist when needed.
What ignited your desire, early in your career, to move to a neighborhood clinic?
I didn't like the continuous crisis of the hospital. I wanted a more long-term relationship with patients. The patients I met were so interesting and had such wonderful stories. I learned so much from them. I also learned more about recovery: I'd see patients who had had some pretty desperate things happen in their lives and went on to be very gracious and loving people. What is so invigorating about this neighborhood is the constant entrance of so many different populations. It's wonderful working in a clinic with interpreters who can help Spanish, Somali, and Hmong speakers feel more comfortable. They can also help us learn about what's culturally appropriate.
What factors do you think contributed to staying on at NorthPoint for the remainder of your career? The fabulous staff: They are so committed to helping people. Also, the continual immigration into the neighborhood. This is such a vibrant and growing neighborhood. Growth is often painful. Pilot City was born of pain (Dr. Anderson references the civil rights issues and limited access to quality health care of minority communities in the 1960s), has tried to treat that pain, and has been a part of striving for inclusion and justice.
What gives you hope about the future of patient care? What gives you pause?
I love these young providers—the doctors, nursing assistants, physician assistants, who are so broad minded. I am in awe of them. They have grace and knowledge and I'm very excited about who we're passing the torch to. That gives me great hope. For pause, it's how do we get (affordable) health care to all who need it?
What influenced your decision to come back to NorthPoint as a volunteer?
When you get older it gets harder and harder to manage your own foot care and providers don't have the time to provide these services. It gives me a chance to come back and see my pals again and to find new friends and learn more about people and their life stories. I used to have "patients," but I don't like to call the people I'm working with today patients—that's not our relationship. I don't like the term "client" so I decided to call them friends. I'll ask, 'Is the next friend in?' Doing this work gives me a wonderful opportunity to sit and hear their stories. Dr. Erickson (NorthPoint's medical director) was very kind and supportive in having me come back. My thanks to the clinic for supporting me in this effort. They do a lot for me and I appreciate it.